Trevi nv heeft meer dan 20 jaar ervaring in het ontwerpen en implementeren van gaswassers (gas scrubbers) voor industriële toepassingen, geregistreerd onder de merknaam Bete®.

Naast de realisatie van Bete® scrubbers worden ook milieuadvies, consultancy, en total-care onderhoudscontracten aangeboden.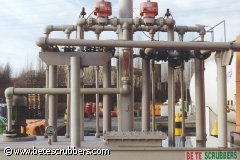 Trevi nv has over 20 years of experience in designing, implementing and servicing gas scrubbers for industrial applications, registered under the trademark Bete®.

Besides the realisation of Bete® scrubbers also environmental advice, consultancy and total-care service contracts are offered to customers worldwide.