Certifications


Intelligent Gas Scrubbers and Services
page: Home
BETE has over 15 years of experience in designing gas scrubbers for a multitude of industrial applications. We focus on intelligent implementation of this proven concept, and on the vast services that are often required by our customers.
Gas Scrubbers
Gas scrubbers neutralize hazardous components in industrial air and gas exhaust systems. We provide a brief description of the basic principles of gas scrubbing, besides the usual types of gas scrubbers.
Applications
Gas scrubbers are used for several industrial applications. More details on exhaust gas scrubbing, odor control, and scrubbers for cylinder filling stations.
Company
Information about our company and our philosophy can be found in the company profile. For those interested in our achievements, we provide pictures (with descriptions) in the portfolio, while an overview of our customers can be found in the references.
Contact
Convinced that we can help you? Let's talk, our phone number is at the bottom of each page. Other contact options can be found on the contact page.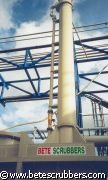 Packed tower scrubber in Ghent (Belgium)