Packed tower scrubber
The Packed Tower Scrubber
page: Home > Gas scrubbers > Packed tower scrubber
Principle
The packed tower is built according to the counter-flow principle: the gas or airstream travels upwards through the tower, meeting the scrubber liquid - which flows downwards - on its way.
Scheme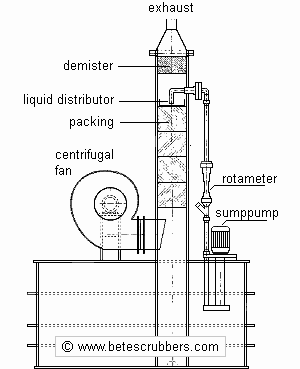 Packing
Migration of unwanted components from gas phase to liquid phase happens in the packing, where a very intensive contact between both phases is organized. The performance of a packed tower scrubber can thus be improved by using the correct packing.
In a well structured packing, the contact surface between unwanted gaseous components and the scrubber fluid is maximized. This enables optimal efficiencies, and thus low operational costs.
Patented Packing
Because of the importance of a well designed packing, we favor the use of a patented structured packing. It has a low pressure drop, is well structured, has low power consumption, and is very durable. Because of these considerable benefits, we prefer using this structured packing wherever possible.
Applications
The amount of scrubber liquid flowing through the tower is constant. The gas flow however, can vary from 0 to a calculated maximum flow. This kind of scrubber is ideal for handling emergencies.
The Packed Tower Scrubber
Can handle strong flow fluctuations
is ideal for tackling emergency situations
reaches high efficiencies with a well structured packing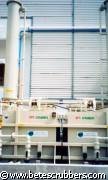 Double packed tower scrubber in polypropylene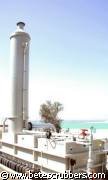 Packed tower scrubber in Izmir (Turkey)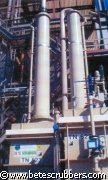 Three stage Ethylene Oxide / Propylene Oxide scrubber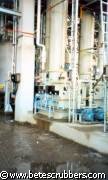 H2S scrubbers in production unit in Ostend (Belgium)