Contact us
page: Home > Contact
BETE, gas scrubber division of TREVI nv
Dulle-Grietlaan 17/1
B-9050 Gentbrugge
Belgium

Tel: +32 9 220 05 77
Fax: +32 9 222 88 89

Route Plan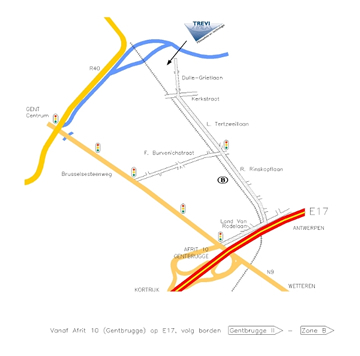 On the highway E17 Ghent-Antwerp you take exit 10 (Gentbrugge).

Coming from Ghent take at the exit left (Brusselsesteenweg) just till under the bridge and at the lights immediately turn right (Land van Rodelaan).

Coming from Antwerp just cross the Brusselsesteenweg at the exit and enter the Land van Rodelaan.

Follow the Land van Rodelaan till under the railway bridge and next turn left (Rinskopflaan). After this you drive straight ahead (by the Rinskopflaan and the Terzweillaan). Than cross the Kerkstraat entering the Arbed-site. At the end of the Dulle-Grietlaan you find at your lefthand the Trevi offices (just across the so-called "black box" or "zwarte doos").
Route: You can find a version to print here:

route (124kB)