More
More Applications for Gas Scrubbers
page: Home > Applications > More
We have experience with:
Biogas desulphurisation, Biogas purification
Boron Trichloride, Boron Trifluoride
Chlorine
Diborane, Dichlorosilane, Dimethylamine
Hydrogen Bromide, Hydrogen Chloride, Hydrogen Cyanide, Hydrogen Fluoride, Hydrogen Iodide, Hydrogen Selenide, Hydrogen Sulfide
Methyl Bromide
Methyl Mercaptan, Monoethylamine, Monomethylamine
NOx
Phosgene
Silicone Tetrachloride, Silicon Tetrafluoride
Trichlorosilane, Trimethylamine
We also have experience with Aldehydes and Phenols
You have a specific situation, but didn't find it on this list? Why not contact us? We are always willing to develop new applications.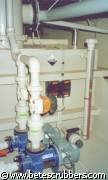 Packed tower scrubber for several acid gasses